OEE Topics
Overview
Our goal is to help you master the art and science of OEE (Overall Equipment Effectiveness), along with the closely related topics of Six Big Losses and TEEP (Total Effective Equipment Performance).
Topics are organized into three areas:
Understand
Understand how OEE and the Six Big Losses work together to create an information foundation that identifies all your equipment-based losses to productivity.
Measure
Measure and calculate OEE with practical advice on how to measure OEE for your application, as well as how to extend OEE to measure utilization and capacity through TEEP.
Improve
Learn a simple yet very effective OEE improvement methodology as well as insights as to what world-class OEE really means and insights on how you can leverage the Six Big Losses in your improvement program.
If you have any questions, we encourage you to contact us. We enjoy helping others – and your questions help us to continually improve this site.
Understand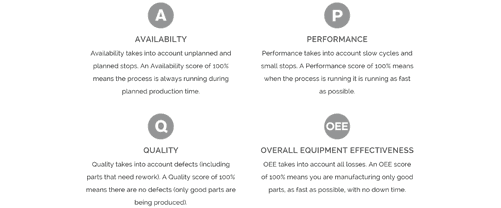 What is OEE?
A Gentle Introduction
The basics of OEE as presented on our home page. The perfect place to start.
OEE Factors
Availability, Performance, and Quality
A deep dive into the three OEE Factors: Availability, Performance, and Quality. Also introduces the corresponding losses, an understanding of which is critical to improving manufacturing productivity.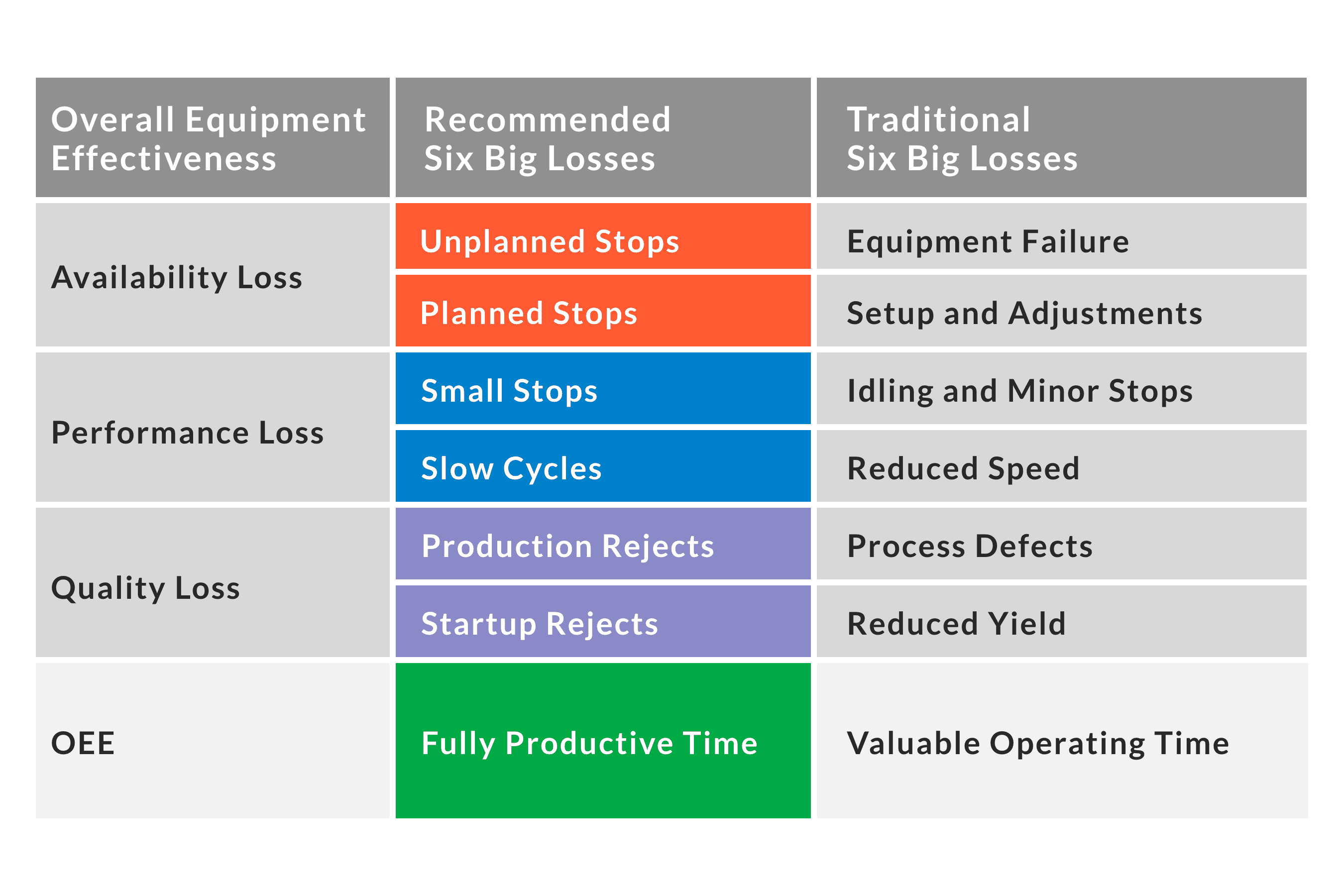 Six Big Losses
A Foundation for Action
The Six Big Losses extend the three OEE losses to a larger and more actionable set of losses that are universal to virtually all discrete manufacturing operations. Each OEE loss aligns to two Six Big Losses and this page covers them all.
Measure

Calculate OEE
Calculate OEE and the Underlying Factors
Learn the simplest OEE calculation (calculating just OEE) and the preferred OEE calculation (also calculating Availability, Performance, and Quality). Includes a complete worked example for the preferred calculation.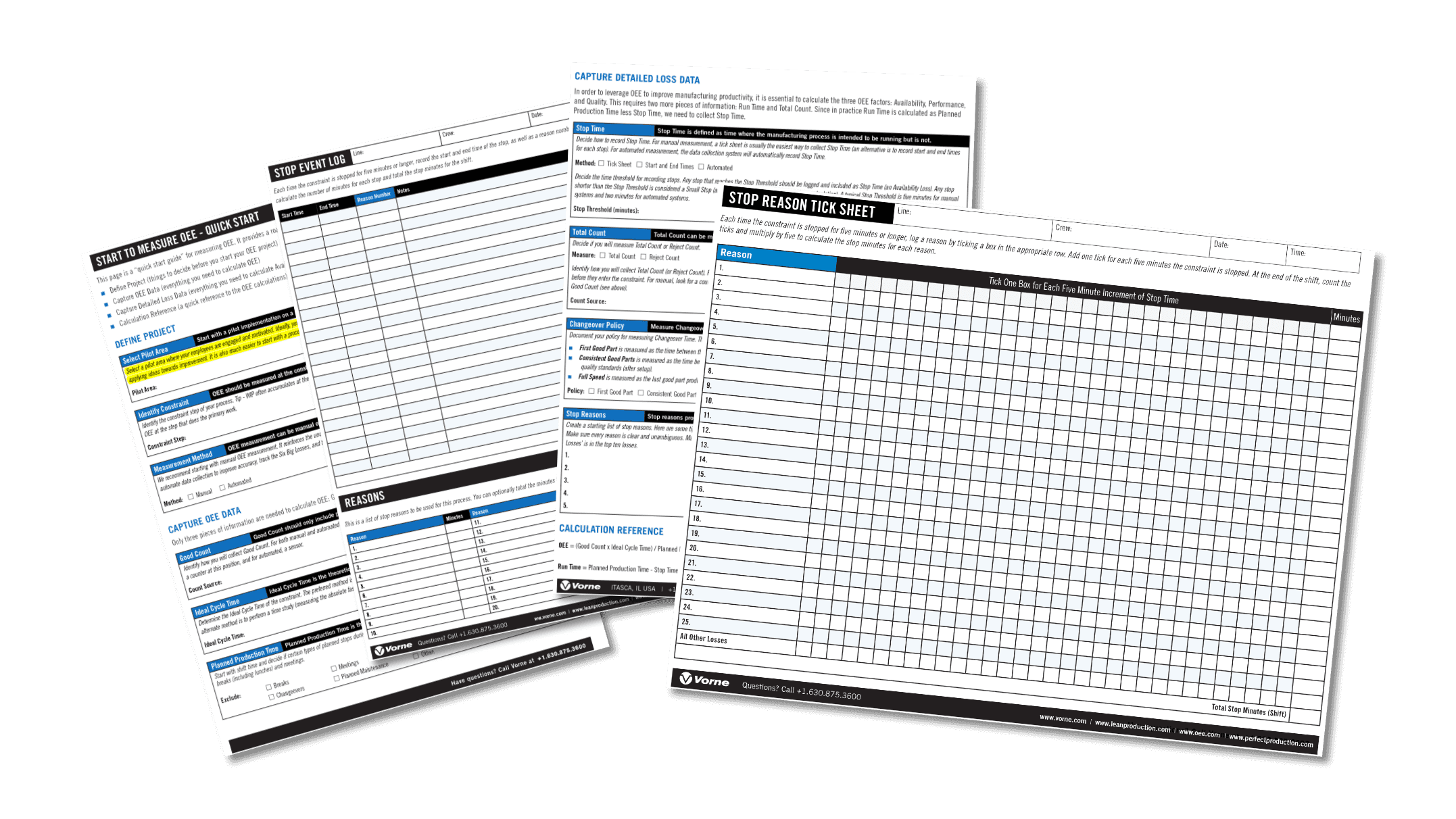 Implement OEE
A Step-by-Step Guide to Measuring OEE
Practical tips and guidance to help you start measuring OEE in your application – quickly and effectively. Includes a PDF form that you can use to define key decisions for your OEE project.

Calculate TEEP
Unlock your Hidden Factory
Extend OEE to include a fourth factor: Utilization. Measure the capacity of your manufacturing operation with TEEP (Total Effective Equipment Performance) and unlock your hidden factory.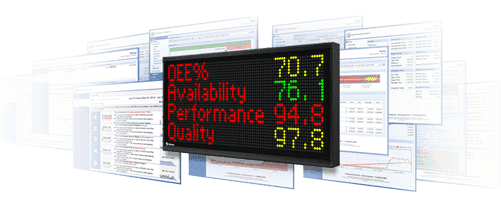 Visual OEE™
Drive Improvement on the Factory Floor
OEE is traditionally used as a "rearview mirror" metric. Enable your teams to become more proactive and to "win their shift" by measuring OEE and other KPIs in real-time, and by providing actionable feedback to the plant floor.
Improve
Improve OEE
Transform Information into Results
Most companies place too much emphasis on results (the OEE Score) and too little emphasis on the factors that drive results: Information (OEE and Six Big Losses), Decisions (selecting which loss to address and how to address it), and Action (taking action to transform decisions into results). This is our favorite page – it's a practical way to quickly get results.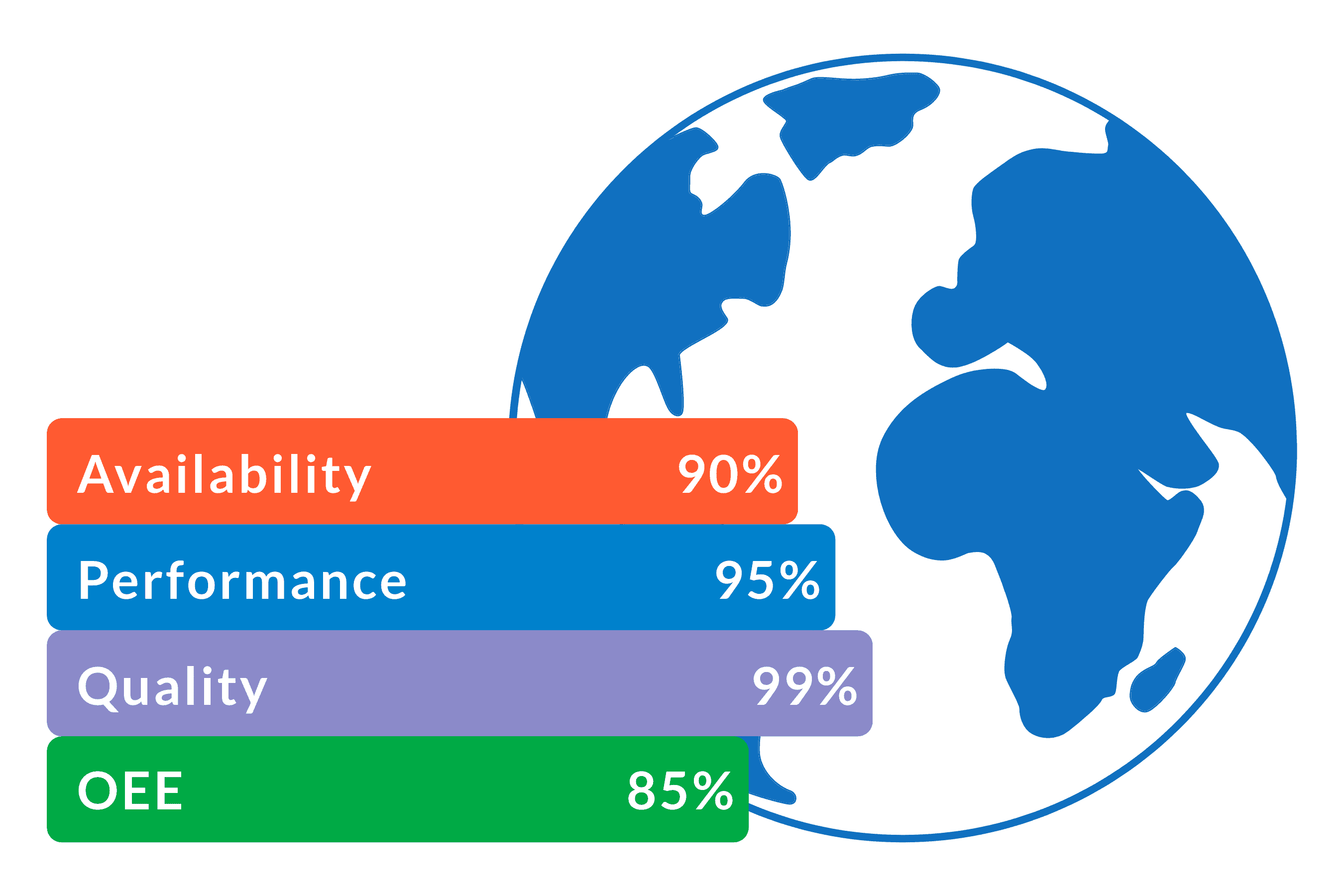 World-Class OEE
Set Meaningful Improvement Targets
World-class OEE is 85%. But what does that really mean? We'll provide you with some context and some advice on how to set effective OEE targets.

Address the Six Big Losses
A Bridge to TPM
Explore the Six Big Losses from the perspective of improvement. Learn about their connection to the world of TPM and get some tips on how to address the Six Big Losses.