VISUAL OEE™
THE BIG IDEA
To best drive improvement, instead of looking back towards past OEE scores, provide your operators with the information they need to "win the shift".
WHAT IS VISUAL OEE™?
Traditionally, OEE is used as a "rearview mirror" metric. Here is a common scenario:
During the shift, operators capture Downtime and production counts on a whiteboard or hourly log sheet.
After the shift, an administrator or supervisor collates the data and generates an OEE report, often as an Excel spreadsheet.
The next day, the data is reviewed as part of the daily production meeting.
Unfortunately, this method of using information is not timely enough to drive meaningful and proactive improvement on the plant floor. Furthermore, experience has proven that manual data capture frequently suffers from serious accuracy issues (such as significant underreporting of Downtime).
Visual OEE™ brings the benefits of the Visual Factory to OEE. The core idea is to automate data capture, calculate OEE and Six Big Losses in real-time, and also communicate losses in real-time so the plant floor team knows exactly how well they are doing during the shift (we call it "winning the shift") AND so they can use tools such as SIC (Short Interval Control) to drive improvement during the shift.
DRIVE PLANT FLOOR IMPROVEMENT
Truth is – we don't actually recommend OEE for the plant floor. OEE is a bit too abstract for truly driving improvement on the plant floor. What we do recommend is providing loss information in real-time to engage operators in proactive improvement.
The same information used to capture OEE and Six Big Loss metrics can be used to generate a highly effective set of plant floor metrics that make it super simple for employees to see at any time if they are "winning the shift". We recommend the following metrics for the plant floor:
Target: expected good parts
Actual: actual good parts
Efficiency: ratio of Actual to Target; 100% or better is "winning the shift"
Downtime: for most companies the largest and most visible loss
TAED (Target, Actual, Efficiency, Downtime) is simple and effective – and it is fully compatible with measuring OEE and the Six Big Losses. All you need to do is provide Takt Time (a cycle time number that represents the pace of production that aligns production with customer demand).
So in summary:
Use TAED to motivate operators to win their shift (operational metrics)
Use Six Big Losses to understand your losses (tactical metrics)
Use OEE to track improvement over time (strategic metrics)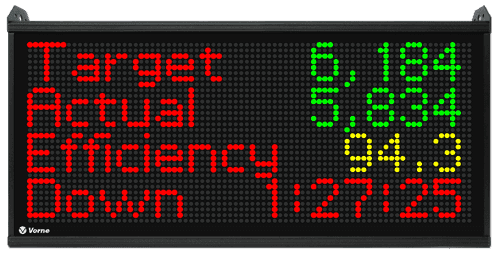 BUILD AN INFORMATION FOUNDATION
A rich and accurate set of information is the foundation for making smart and informed decisions. Fortunately, it is surprisingly easy to automate the collection of production data and build a strong information foundation.
Specifically, with two sensors, an Ideal Cycle Time (required for any calculation of OEE), and a work schedule (to establish Planned Production Time) all of the following information can be generated. Recommended KPIs are shown in bold.
OEE
Availability, Availability Loss, Availability Lost Time, Availability Lost Count
Quality, Quality Loss, Quality Lost Time, Quality Lost Count
OEE, Fully Productive Time, Total Loss, Total Lost Time, Total Lost Count, Performance, Performance Loss, Performance Lost Time, Performance Lost Count
Six Big Losses
Unplanned Stop Loss, Unplanned Stop Lost Time, Unplanned Stop Lost Count, Planned Stop Loss, Planned Stop Lost Time, Planned Stop Lost Count
Startup Reject Loss, Startup Reject Lost Time, Startup Reject Lost Count, Production Reject Loss, Production Reject Lost Time, Production Reject Lost Count
Cycle Loss, Cycle Lost Time, Cycle Lost Count, Small Stop Loss, Small Stop Lost Time, Small Stop Lost Count
TEEP
TEEP, Utilization, Capacity Loss, Capacity Lost Time
Counts
Total Count
Rates
Current Total Rate, Average Total Rate
Current Good Rate, Average Good Rate, Current Reject Rate, Average Reject Rate
Times and Cycles
Run Time, Unplanned Stop Time, Planned Stop Time, Not Scheduled Time, Percent Run, Percent Unplanned Stop, Percent Planned Stop, Run Occurrences, Unplanned Stop Occurrences, Planned Stop Occurrences, Remaining Time, Expected Changeover Time, Actual Changeover Time, MTBF, MTTR
Standard Cycles, Slow Cycles, Small Stops, Total Cycles, Standard Cycle Time, Slow Cycle Time, Small Stop Time, Standard Cycle Lost Time, Slow Cycle Lost Time, Small Stop Lost Time, Current Cycle Time, Previous Cycle Time, Average Cycle Time, Average Standard Cycle Time, Average Slow Cycle Time, Average Small Stop Time
If you provide just one more number, Takt Time, you can add the following target-based metrics to your information foundation and provide real-time TAED to the plant floor:
Target
Efficiency, Percent Variance, Time Variance, Count Variance, Target Count, Target Cycles, Pace Timer, Average Takt Time, Takt Compliance Time, Takt Overage Time, Takt Compliance Percent, Takt Overage Percent
MANUFACTURING IMPROVEMENT MADE EASY
Once your information foundation is in place there are many ways to use that information to drive improvement. The three most popular methodologies are Lean Manufacturing, Six Sigma, and Theory of Constraints. All of these methodologies have a great deal to offer for manufacturing improvement. None of these methodologies are easy.
As a result, we are often asked – is there a way we can get started while we put a comprehensive program in place? The answer is yes. We encourage you to look at our Improving OEE page for a simple yet highly effective way to get started.
VORNE CAN HELP
Are you interested in monitoring and improving your manufacturing process? Having better information about your OEE losses? Are you frustrated by not having the information you need to take effective action?
This website is created and maintained by Vorne. We are experts in manufacturing improvement and we are passionate about helping companies achieve results. Our XL Productivity Appliance is an inexpensive, off-the-shelf product that can easily help you achieve everything on this page - and a whole lot more. XL has been deployed on nearly 30,000 manufacturing processes across 45+ countries.